Gujarat Mukhyamantri Amrutam Yojana, Ma Card Scheme, How to Apply, Online form 2019
In this Article, we are discussing the Health Welfare Scheme named Amrutam. This scheme is launched For the people living below the poverty line and lower income group. Illness, be it of type requires instant hospitalization and complete care of the patient. In such a scenario, there is an instant need for Money. Poor People most of the times, find themselves in a difficult situation when any sort of illness is faced.
 Mukhyamantri Amrutam Yojana is a tertiary care scheme for Below Poverty Line (BPL) population of Gujarat. Under this Scheme, Following diseases are covered. 
Renal (Kidney) issues and obligations,

Neurological related patients,

Cancer (Malignancies) victims

Neo-natal (newborn) diseases which cover 628 defined procedures along with their follow-ups
Mukhyamantri Amrutam | Ma Card Yojana Gujarat
This Scheme is not a new scheme. Health & Welfare Department of Gujarat announced this scheme (MA Yojana) in September 2012. However, after that many amendments have been done. In August 2014, this scheme was named "Mukhyamantri Amrutam Vatsalya"
In October 2017, the concerned department increased the limit from 1.5 Lakhs to 2.5 Lakhs. This Decision covered lots of more families and helped them.
Aim/Benefit of the Scheme: This scheme provides free/cashless medical services to BPL People. All People of Gujarat Belonging to BPL Category and earning not more than 2.5 Lakh Per year get Cashless Treatment under this scheme.
Mukhyamantri Amrutum | MA Card Scheme 2019
Eligibility Criteria Explained:
Here are the Eligibility Requirements
Family Belonging to BPL Category

Families with annual income, not more than Rs.2.50 lakh,

All urban & rural ASHAs (Accredited Social Health Activist),

Reporters

Fix pay employees of class-3 & 4 appointed by the state government
Required Documents:
Proof of Residence (Ration Card)

Proof of Identity (Water ID card, Driving License)
Covered Diseases
Following Categories of Diseases are covered under this Scheme:
Neo-Natal (new-born) diseases which cover 628 defined procedures along with their follow-ups
Sum Assured:
As per this Scheme, Rs. 2 Lakh Per Annum is the Sum Assured. Additionally, Rs. 300 is given to the beneficiaries as transportation charges. To facilitate this Scheme, QR Coded Health Cards are given to every beneficiary. Using this Card, one can apply for Cashless treatment under this scheme.
Ma Card – Key Features of Mukhyamantri Amrutum Card
It Contains Photo of Family Head

It consists of Unique Registration Number

Also, Biometric Thumb impression of Every Enrolled family Member exist
Key Benefits of Ma Amrutam Scheme
Totally Cashless Scheme: As the Scheme is Cashless, there is no need to arrange cash.

Paper Cless Claim Processing leads to Early Claim Settlement 

All Empanelled Hospitals are equipped with the latest technology equipment. So, if some are admitted in the hospital, he should be 100% sure about the treatment facilities
For the enrolment of the beneficiaries, taluka kiosks and city center kiosks are installed at the civic centers. List of BPL families is available on the official website based on their yearly income. They can avail the card mentioned above. Private hospitals, government hospitals, and standalone dialysis centers are impaneled to avail benefits of the scheme.
Ma Card |Apply Online, Enrollment@ magujarat.com
In order to Apply for the Scheme and Get the MA Card, Applicants needs to:
Visit Nearby kiosks. These Kiosks have been set up at each Taluka and Civic Center have been established under the scheme. These kiosks are equipped with all hardware required for the collection of biometric information (fingerprints), photographs of family members, a printer to print MA/MAV card, etc.
Make Sure that you have all the required Documents. The Concerned Official Will check the Documents and then proceed with the Online Applicant Enrollment Process. Within Few Minutes, the card is issued to the Beneficiary.
Ma Amrutam Card Eligible Hospital List:
Here is the List of the Hospitals that are accredited under this scheme and accept Ma Amrutam Card. View the Complete List to find the hospital nearest to your location.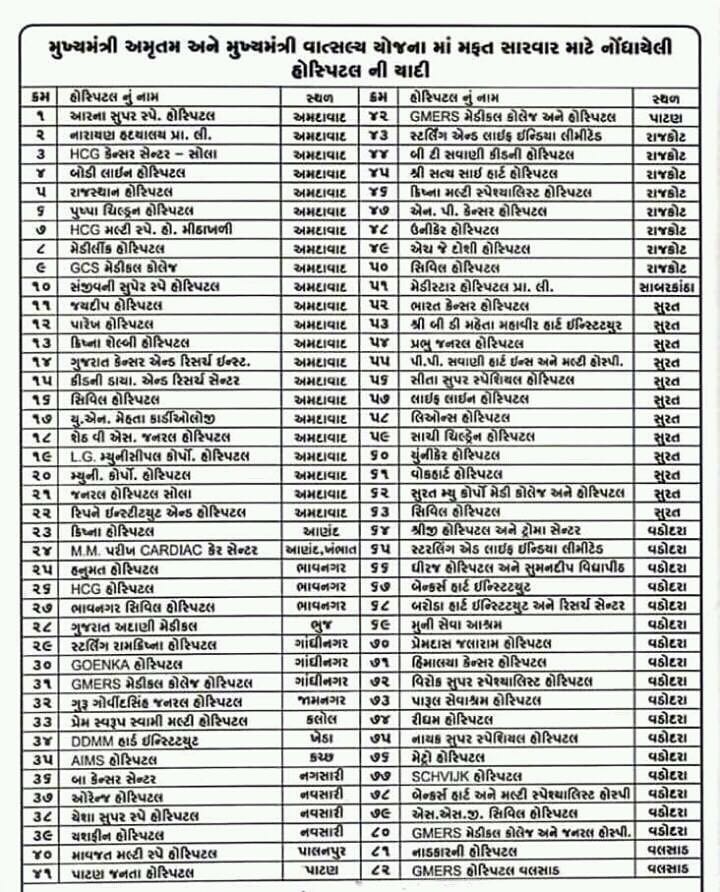 You can Study Complete Information regarding this Scheme in Gujarati from HERE:
[wonderplugin_pdf src="https://www.minmini.in/wp-content/uploads/2019/06/About-MA-Yojana-Gujarati.pdf" width="100%" height="600px" style="border:0;"]
Feel Free to Share your thoughts regarding Gujarat Ma Card Yojana 2019 in the comments section below.